Northern Neck Ace Hardware
Bonita French
Store Manager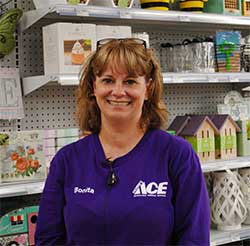 Born and raised in Richmond County, Bonita began her career at Horn's Northern Neck Ace Hardware in 2016 as a sales associate. She quickly advanced to assistant manager and is now the store manager. Bonita likes the fast paced atmosphere at Northern Neck Ace and when asked what she likes the most about her job Bonita quickly responded she likes how no two days are alike and the real sense of family she feels at the store. And Christmas! Bonita and her husband will tell you that she LOVES Christmas décor. Aside from managing the store, Bonita is a busy mom of two boys and a grandmother to one girl that enjoys reading, going to the beach, camping, and most importantly spending time with her family.
NORTHERN NECK ACE HARDWARE ABOUT US:
Northern Neck Ace Hardware is centrally located in Kilmarnock at 96 School Street. Opened in July, 2012, the 12,000 square foot store is packed with thousands of essential products and some fun, not so essential products too! We are proud to carry a selection of specialty brands catering to the needs of the Northern Neck community, including Benjamin Moore, Big Green Egg, Penn Rods and Reels, Costas Sunglasses, and more! We also have Ace Rental Place offering a wide range of tools and heavy equipment for your next project.
Mark Augst
Assistant Store Manager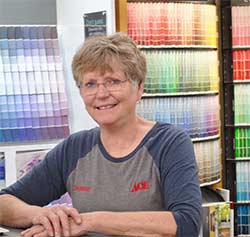 DEBBIE DODSON
Paint Specialist/ Manager
Contact Us:
(804) 435-1242
Hours:
Monday 7AM–6PM
Tuesday 7AM–6PM
Wednesday 7AM–6PM
Thursday 7AM–6PM
Friday 7AM–6PM
Saturday 8AM–5PM
Sunday 9AM–3PM
Daylight Savings Fall & Winter Hours Monday thru Friday 7am to 5pm